AIR CONDITIONING INSTALLATION
Keeping your home comfortable can be difficult, especially when the temperature gets too hot or too cold. There are so many systems to choose from—how do you decide what's best for you? Let our family team help you out, we've been looking after your home electrics so why not let us help resolve your heating and cooling issues.
Split Systems
The split system is one of the most popular types of heating and cooling options. Split system air conditioning is perfect for those on a smaller budget, they are an excellent, cost-effective solution to heat or cool a single room or area of a house. Split systems provide both heating and cooling and can be installed in almost any location.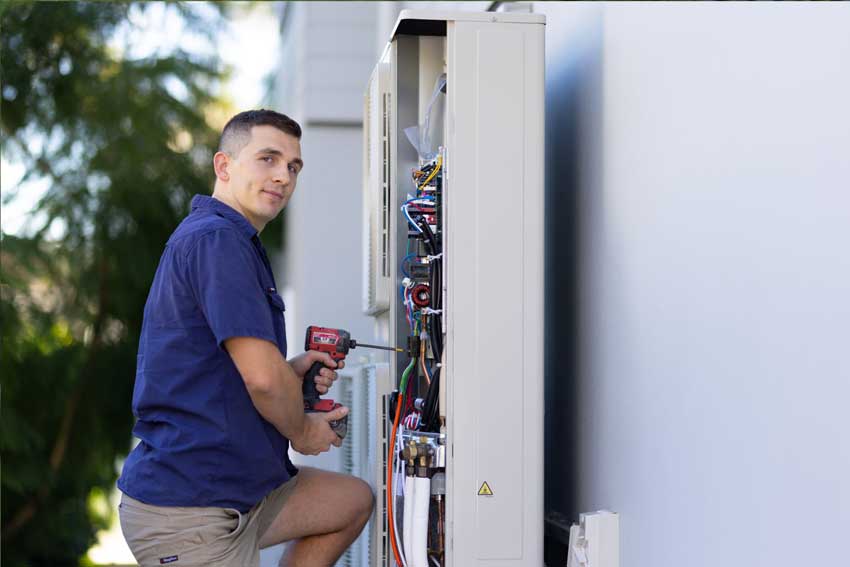 Need Advice?
Need advice on heating or cooling your home?
When it comes to air conditioning installation around the Northern Beaches, North Shore and Inner West give us a call on 0411 188 492.
You're in good hands:

If you're thinking about having air conditioning installed, our family-run team of Sydney electricians offer a service you can rely on. Give us a call on 0411 188 492 and we'll gladly talk you through the options, and ensure that the product is installed to the highest standard. We also offer a warranty on all labour and workmanship of air conditioning installation.

FAST TWO HOUR RESPONSE
LOCALLY OWNED, FAMILY OPERATED
1300 301 077, 0411 188 492

HELP THE ENVIRONMENT WHILST SAVING SOME MONEY, IT'S A WIN WIN!
"Being in the construction industry, I've dealt with the team at Electric Express Solutions on a number of occasions, and have always been very impressed with the high-quality workmanship, awesome customer service, their ability to quickly and efficiently sort out any issue, and also the care and understanding in their approach.
It's rare to find such a reliable, honest, and customer focussed team, and they're just great people in general."
