LED DOWNLIGHTS INSTALLATION
Lighting is one of the most important aspects of your home. Not only is it how you illuminate your family's life, it's also the single biggest energy consumer in most households. The way you light your home doesn't only affect the ambience – it can make a significant impact on your carbon footprint and your wallet too.
At Electric Express, whenever we have a customer who is looking to reduce their home's energy usage or wanting to make their home more environmentally friendly, we always recommend installing LED downlights.
What are they?
LED lights are nothing new – for decades, they've been used to illuminate traffic lights, flashlights and television screens. But in recent years, the technology has become much more advanced. Installing LED downlights is now a much more affordable and practical option in residential homes. Our team of friendly electricians are experts in LED downlights installation in Sydney, and have helped many of our customers swap out their outdated light fixtures for modern, efficient LEDs.
The cost?
While it may seem like a more expensive option initially, having LED downlights installed can offer considerable savings when compared with outdated incandescent lighting, or compact fluorescent light bulbs. We even created an easy to use LED calculator for you to see the savings. You're always welcome to call us on 0411 188 492 and talk to our friendly team of Sydney electricians if you'd like to find out how much money you could save by installing LED downlights.
Less energy, more light:
In the average Aussie house, lighting is responsible for more than 30% of energy usage, and having LED downlights installed is the biggest way that you can reduce your energy impact. To put it plainly, LED bulbs use less power to produce light. Having these energy efficient lights installed in your home can slash your energy usage in home lighting by 80% – taking a considerable chunk out of your carbon footprint, and your power bills.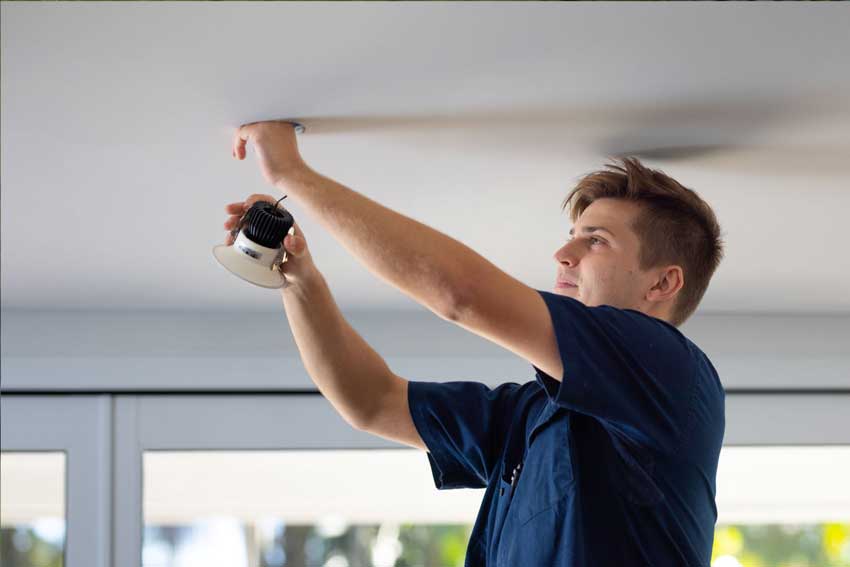 Longer life, less hassle:
LED bulbs have an average lifespan of 50,000 hours. To put this in perspective, this means your LED light bulbs will last 15 times longer than the average halogen downlight. Giving you up to 20 years of lighting in your living room, kitchen or bathroom. Imagine not having to buy and replace your bulbs for nearly two decades. Paying slightly more to install LED downlights is an investment you make once, that will offer you years and years of sustainable illumination.
Greener homes
Global warming is fast registering with our customers as an essential focus for our Australian homes.  If you are looking for ways you can reduce the effects of CO2 emissions on our planet, installing LED downlights is by far the greenest lighting solution on offer. LED bulbs release much less CO2, sulphur dioxide and nuclear waste than other forms of lighting. Where 30 incandescent light bulbs release about 2500 kg's of these emissions a year, LEDs only produce about 200 kg's annually.
Stay safe, stay cool:
LED lights are free of toxic materials and are 100% recyclable. The  'cool touch' design of LED light bulbs also make them a safer choice for your home and garden, not to mention making a surprising difference to the temperature of your home. Did you know that having halogen lights burning in a room all evening can raise the room's temperature by up to 6 degrees celsius? This is because only about 5% of the energy that goes into a typical incandescent bulb comes out as light –  and the remaining 95% comes out as heat! LED downlights on the other hand produce 90% less heat, and given our hot Sydney summers, that could make a noticeable difference to your family's comfort, not to mention your aircon bill!
You're in good hands:

If you're thinking about having LED downlights installed, our family-run team of Sydney electricians offer a service you can rely on. Give us a call on 0411 188 492 and we'll gladly talk you through the options for home lighting designs and fixtures, and ensure that the product is installed to the highest standard. We also offer a warranty on all labour and workmanship of lighting installation.

FAST TWO HOUR RESPONSE
LOCALLY OWNED, FAMILY OPERATED
1300 301 077, 0411 188 492

HELP THE ENVIRONMENT WHILST SAVING SOME MONEY, IT'S A WIN WIN!
"Steve's been our electrician for more than 10 years – and now with his two boys as
well. They're prompt, reliable, helpful – and best of all, creative when we have a
difficult problem either in the house or around the garden. Just recently they replaced
our old lighting with brand new, energy and money-saving LEDs. They're fabulous, a
hi-tech leap forward."
