Solar and Battery installation
Thinking about adding solar to your home? Our experienced family team at Electric Express Solutions will ensure you get the best Solar Energy system to suit the requirements of your home and family. We'll design and install a system that will lower your energy bills, generate clean power and allow you to take back control of your electricity usage.
We're not just another team installing solar panels; we're your partners in building a brighter, greener future. With our Clean Energy Council (CEC) Designer and Installer accreditations, we're your trusted experts in solar installation.

Why Move to Solar?
Incredible Savings: Over the system's lifetime, you could save tens of thousands on electricity bills.
Boost Your Home's Value: Adding solar is a surefire way to up your property's worth.
Make a Green Impact: Reduce Greenhouse Gas Emissions and generate clean power
Limit the Impact of Rate Hikes: Reduce your dependence on external providers. With solar, you're in the driver's seat, charting your path to genuine energy autonomy.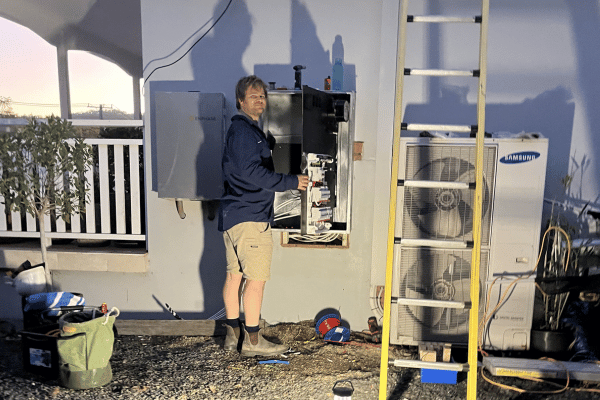 Our Extensive Range of Solar Services
The Electric Express team are able to take care of all your solar needs including:
Solar Design – We'll design a solar system perfectly suited to the personal requirements of your home and family.
Solar Installation – As qualified electricians and accredited solar installers, we'll ensure the job is done right.
Grid Connection – We're Level 2 Electricians and will install your new system to the grid for you. No need to wait around for other teams to arrive.
Battery Installation – Considering installing a battery to most out of your system? We'll walk you through the options and ensure you get the solution for your home.
New technology is constantly coming to the market in the solar panel, inverter and battery sector.  The team at Electric Express Solutions is staying in touch with all the developments to make sure we can offer our customers the best options available.
Give Steve a call on 0411188492 and we can organise a time to go through options with you that best suit your homes usage and aspect. Find out why solar is such a worthwhile investment for your family's future.

LIFETIME GUARANTEE ON ALL WORK
LOCALLY OWNED, FAMILY OPERATED

GARDEN LIGHTING INSTALLATION AND ALL OTHER ELECTRICAL NEEDS.
WE'VE BEEN WORKING IN THE SYDNEY SUBURBS FOR 30 + YEARS.
"I'm completely wrapped in the work Steve and the boys have carried out. I can't
recommend them highly enough. My job was fiddly, and they had solutions for every
issue and the garden lighting they have installed looks fantastic. The have my full
endorsement."
