Ceiling fan installation
Our experienced team at Electric Express Solutions can help you choose the best ceiling fan suited to the personal requirements of your home and family.
Ceiling fan installation will save you money
In use for over 120 years, ceiling fans are the most widely used and efficient method of cooling your home. Ceiling fans are a great way to avoid expensive air conditioning costs in the summer. By generating slow movements in the air, ceiling fans effectively create evaporative cooling which works wonders at dropping the temperature of a room. For quick relief that costs but a fraction of the cost of air conditioning, install  ceiling fans in your home.
Most ceiling fans use only about as much power as a 60 watt light bulb.
This costs as little as 3 cents an hour to run.
Ceiling fans and air conditioning?
If you are lucky enough to have an air conditioner installed, you can still install ceiling fans to bring down the cost of your power bills. Running your air con and ceiling fans in tandem will increase the rate of cool air moving throughout your home and bring down the hard work for your air conditioner. With air con costing roughly $0.30 per hour to run, you're looking at approximately 10X the cost of ceiling fans. When a ceiling fan is used in conjunction with your air conditioner you can save as much as 40% off your total cooling costs!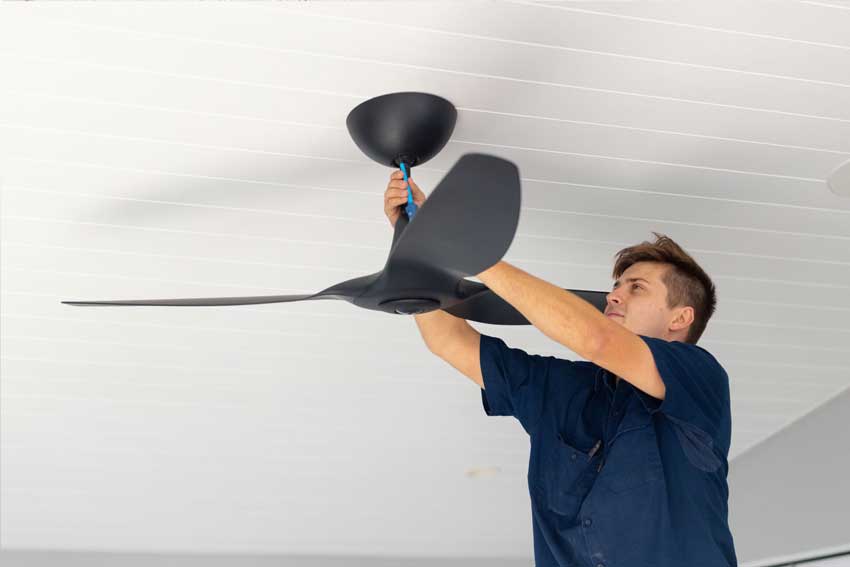 Ceiling fan installation can also help with heating
Did you know that switching the blade direction of your ceiling fan will help with your winter heating costs too? As warm and cold air is separated, the warm air stays at the top and the cool at the bottom. This lets a ceiling fan mix up stagnate atmosphere to help create a more comfortable environment for you and your family, year round. Ceiling fans can also assist in spreading  the warmth created by your heater more effectively by transporting the air throughout the room.
Installing ceiling fans is the healthy option
People who suffer from allergies can be helped by increasing the ventilation they have in their home. By installing ceiling fans to keep the air moving and extraction fans to take any nasties out of the room, you can provide a safe breathing environment year round for the whole family. Simply by keeping the air moving and staying on top of your fan blade dust maintenance, you are enhancing the air quality in your home.
If you want to save money on your cooling and heating bill, call Electrical Express now to discuss installing ceiling fans in your home.

FAST TWO HOUR RESPONSE
LOCALLY OWNED, FAMILY OPERATED
1300 301 077, 0411 188 492

For further information on staying cool, warm and energy friendly, pop over on to Steve's (Blog) Tips for handy tips.
'I have needed a lot of electrical work done on an Early 1900s heritage home, and
after going through 3 other electricians (with poor workmanship and /or ad hoc
responsiveness) I have found Electric Express far superior in terms of knowledge
and quality. Their responsiveness is amazing – I barely have time to worry before
they are here. They have a great notification system too – the customer Service is
really flawless'
