With more people working from home after COVID-19, more and more people are using smartphones, smart watches, smart televisions… so why not also use Smart Dimmers!
We have recently come across the new and easy to use SAL PIXIE Smart Dimmer. It can be installed in any room of your home or office and all you need to do once install is download the free PIXIE app and you can control everything from your smartphone!
What is a PIXIE Smart Dimmer?
he PIXIE Smart Dimmer is a 350 watt Bluetooth push button lighting dimmer. It allows you to control the lighting in your residence through Bluetooth wireless communication with a range of 15 meters. The PIXIE dimmers are the newest technology designed for trailing edge phase cutting dimming!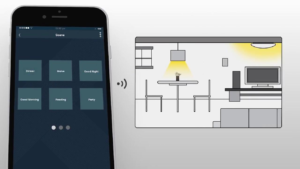 Includes an array of functions…
Allows you to set a time period for your dimmers to remain on
Schedule your dimmers to turn on, off or fade any time or day of the week!
Set all your dimmers into dimmer groups
Set up dimming/lighting scenes around your home
SAL has done a great job in bringing a smart piece of technology to the market that can be used by just about anyone! Enjoy the luxury of tapping a single button to control the lights throughout your house and as an added bonus enhance security throughout, all at an affordable price.
If you are interested in getting a SAL Pixie dimmer installed at your home, give Steve a call on (02) 9159 6877!